Research at GXMUCS
2018/8/20 18:33:28 | by Administor | Administration Office
Research acts as an integral part in GXMUCS. The college is rapidly developing its research programs. The close interaction with clinical practice at the affiliated hospital provides important experience and patient perspectives for researches. High-quality research has been carried out within a broad range of scientific fields, some of which were funded by the National Nature Science Foundation of China. Great achievements have been made in various fields and numerous academic papers have been published in both national and international dental journals.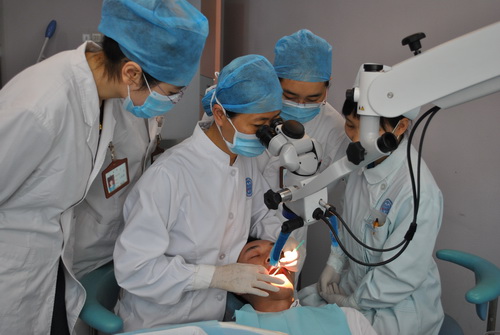 The college encourages more innovative research to increase medical knowledge and to improve methods for understanding, preventing, treating and curing dental oral diseases. In pursuit of this goal, we strive to enhance our research capacity, to strengthen our research performance, to promote the transfer of new discoveries in basic research to solve clinical problems, to be recognized as one of the leading research dental schools in China.
In recent years, the college has made great scientific research achievements. It has undertaken 39 research projects supported by National Natural Science Foundation, 2 sub-projects of national science & technology pillar program of the "Eleventh Five-Year Plan", 1 research program in health sector of the Ministry of Health of China, 1 international cooperation project, 60 scientific research projects at provincial (ministerial) level, 117 scientific research projects at departmental (bureau) level. Besides, the college owns 1 key laboratory in Guangxi (Stomatology Laboratory), 1 key laboratory in Guangxi's Universities (Key Laboratory of Treatment Research for Maxillofacial Surgery Disease). Since 2005, the college has won 1 First Prize, 3 Second and Prize 4 Third Prizes of Guangxi Science Technology Progress Award; 5 First Prizes and 3 Second Prizes of Guangxi Feasible Medical Technology Award; 1 Research Innovation Award granted by Chinese Stomatology Association, etc.