GXMUCS Delegation visit UHS of Cambodia
2018/3/14 11:42:29 | by Administor | Administration Office
A delegation led by Prof Zhou Nuo, Vice President of Guangxi Medical University (GXMU) Dean of College of Stomatology, GXMU, visited University of Health Sciences (UHS) of Cambodia on March 14, 2018. The delegation, including faculty of GXMUCS representatives of Chinese dental enterprises, were warmly received by Prof. Saphonn Vonthanak, Rector of the University.
On the morning of that very day, the delegation visited the new site of China-Cambodia Dental Collaboration Center discussed its construction with the representatives of UHS. In the discussion, the two sides exchanged views on the construction of the center in depth. Prof. Hong Someth, Director of UHS, firstly introduced the plan design of the center, Prof. Zhou also expressed that GXMUCS would work hard to support the establishment of the center.
In 2016, GXMUCS signed an agreement of "China-Cambodia Dental Collaboration Project" with National Health Family Planning Commission of China. It then became the first unit of China to conduct dental health cooperation project in the ASEAN region. At the same year, GXMUCS signed a MoU with UHS the two sides reached the cooperation intention of jointly building the China-Cambodia Dental Collaboration Center. Upon the establishment of the center, China Cambodia will carry out comprehensive in-depth cooperation in dental technician training, clinical technology, academic exchange scientific research through this platform.
During the visit of this time, the delegation also visited the Faculty of Odonto-Stomatology of UHS, had extensive discussions with Prof. SENG Rossamit, Dean of the Faculty. The two sides discussed the exchange of teachers students between the two schools hoped to open a new chapter of bilateral cooperation.
In 2016, representatives of GXMUCS Chinese dental enterprises jointly donated a group of modern dental devices worth more than 600,000 yuan to the center. At this time, the dental enterprise representatives also donated a made-in-China dental CBCT equipment to the center, which will creat a better condition for improving the local dental treatment level of Cambodia further promote the international development of Chinese enterprises.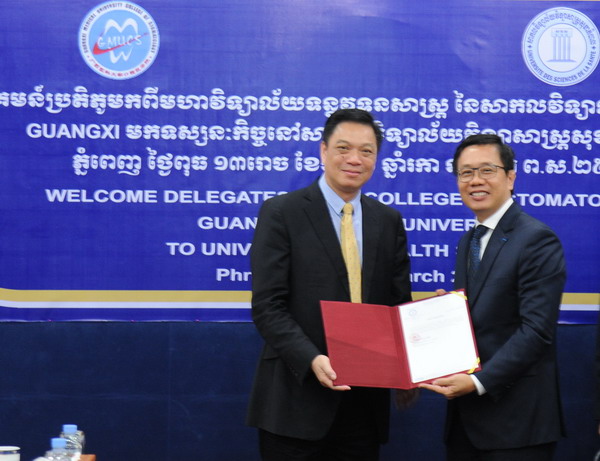 Prof. Saphonn Vonthanak giving a Certificate of Appreciation to Prof. Zhou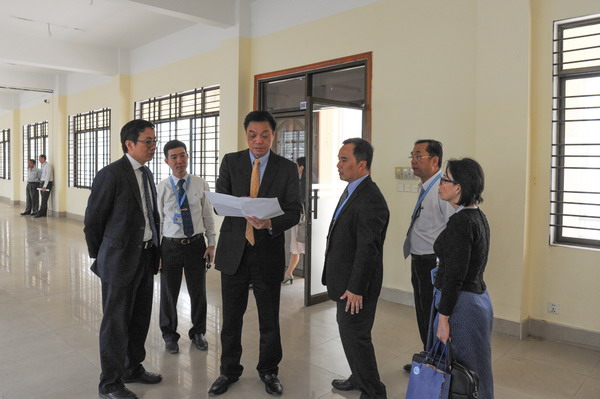 The two sides discussing the design of the center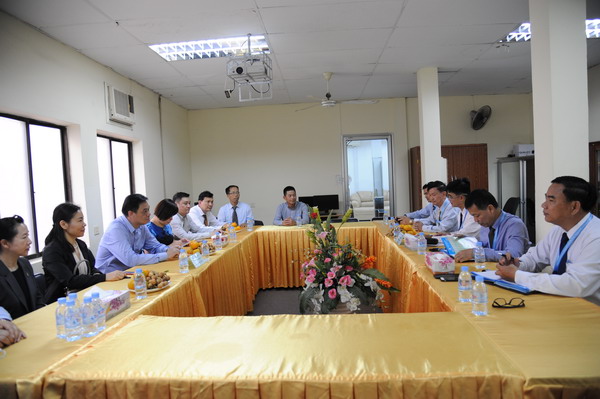 GXMUCS delegation having a meeting with representatives of Faculty of Odonto-Stomatology, UHS